MALHEUR COUNTY — On Friday, many Malheur County residents got to feel a little bit of a return to normalcy as Phase 1 of Oregon Gov. Kate Brown's plan to reopen Oregon began for many of the state's counties.
Most businesses in Oregon have been closed or have altered operations over the past two months due to restrictions put in place to slow the spread of the novel coronavirus COVID-19. Malheur County officials received Brown's letter of approval to enter Phase 1 late on Wednesday night.
The county's first phase allows some businesses that meet criteria including social distancing measures and identifying high-risk employees to reopen. This includes industrial/manufacturing, all retail stores, professional and personal services, government entities and restaurant dining rooms.
Employers are urged to continue encouraging telework, whenever possible and feasible to help slow the spread of COVID-19 as the community eases through the three phases of opening.
For many Malheur County businesses, Friday was their first day seeing normal traffic in a long time.
For the first time in nearly two months, Mackey's Steakhouse & Pub was open for dine-in business on Friday. After a few days of running take-out, Angena Grove, who runs Mackey's with her husband, Shawn, decided it wasn't feasible to keep operating that way.
"We're not really set up for delivery and take-out," Grove said. "I worked through the numbers and they just weren't working. We had to stop the bleeding."
The doors were closed on March 20.
On Friday, Mackey's was operating at about half capacity. In the upstairs dining area, the number of seats was reduced from 90 to 50. In the patio seating area, there are 50 more seats available. The bar downstairs has between 25 and 30 seats with no bar top seating.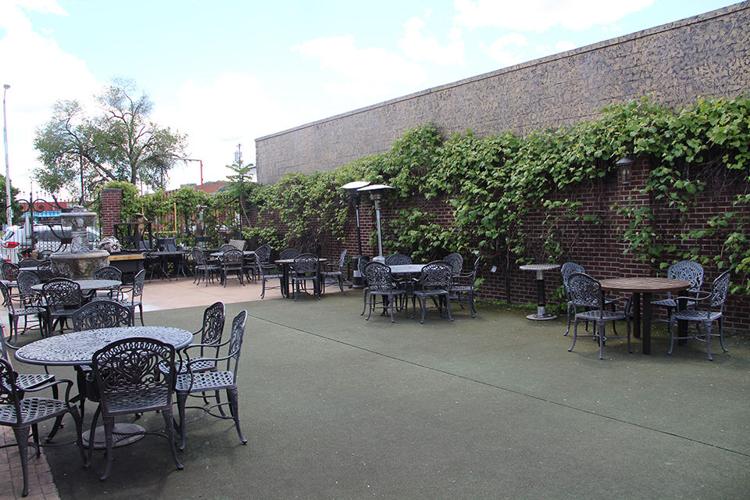 All employees are wearing masks inside the restaurant and bar, and there are new cleaning protocols in place. When customers order, the menu they used goes into a separate bin where it will be cleaned. Every table is completely cleared and the items (including condiments) are cleaned between customers.
When Mackey's closed in March, Grove said they had to temporarily layoff the entire staff, which was 24 total people. As of Friday, 23 of those workers were back on the schedule (with the one other person finding a new job in the past two months) Grove said.
Mackey's payroll system has a built-in messaging feature that Grove used during the past two months to stay connected with Mackey's employees. Grove said she was messaging the workers periodically and sending them updates, like when Malheur County submitted its application for reopening.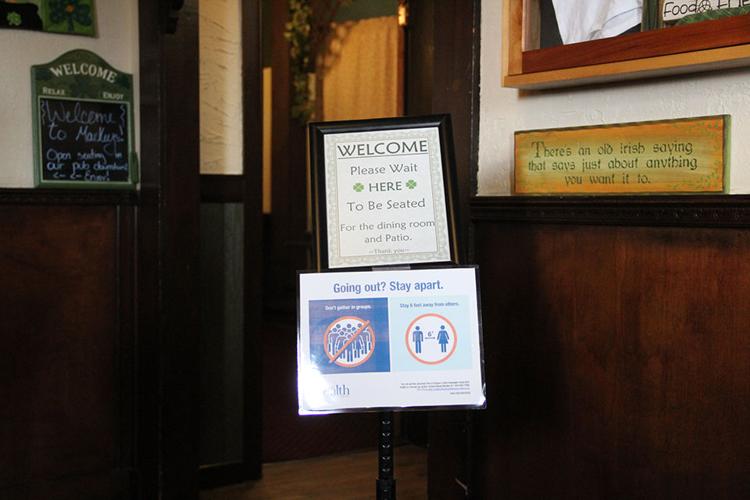 "We were super blessed," Grove said. "I told them, as soon as I get the go-ahead, consider yourself back on the schedule."
While the doors were closed, Mackey's wasn't empty for the last two months. Grove said they have been busy cleaning the restaurant and bar, as well as painting and doing other renovations that they never have time for.
"It's fresh. It's clean. It's good."
Friday started slow for breakfast, with only eight of the 11 tables set up for diners to sit down and order from, said Jason Jungling, owner of the Plaza Inn.
But by noon, the 11 tables, spaced appropriately, were full and the lunch-time crowd had spilled into the meeting room. Jungling said he expects it to get busier as people learn that the restaurant is open again. It was all hands on deck with the available staff, including his father, Jim Jungling, and wife, Salena, as four employees were unable to work.
This includes one because of a new baby, Jason Jungling said.
Even though it was still curb-side service, business on Mother's Day was about half of what it was on that day last year, Jungling said, commenting that it was busy for a while.
He had been closing by 2 p.m., he said, and thought closing might be at 3 p.m. on Friday, unsure if he would go longer.
Everyone was getting used to the new rules, staff members were reminding customers that everything had to be wiped off after each use.
Jolts & Juice's downtown location did not open for dine-in on Friday, rather it will reopen its doors on Monday. The coffee shop has been open in all its locations for either curbside pickup and drive-thru service.
General Manager Jordan Heinz explained in a phone interview on Friday afternoon that the weekend will be an opportunity to make sure that everything is ready for customers on Monday morning.
"A lot of what's required, we've already been doing," said Heinz.
She also said how there will be extra hand sanitizer pump stations placed around throughout.
Heinz said that with all of the changes and safeguards being put in place, she wants customers to feel like Jolts is still the same warm and welcoming atmosphere that people have come to expect.
In Nyssa, the morning traffic at Thunderegg Coffee Company looked pretty much the same, as people went and got their beverages and/or breakfast burritos and left, as they did most of the time before the virus ended sit-down dining.
The main difference was the Lottery machines were coming back on.
Across the street, a sign heralded the Friday morning reopening of Bob's Steak n' Spirits, which had been closed, listing the hours for the restaurant from 7 a.m, to 9 p.m. and 9 a.m. to 10 p.m. for the lounge.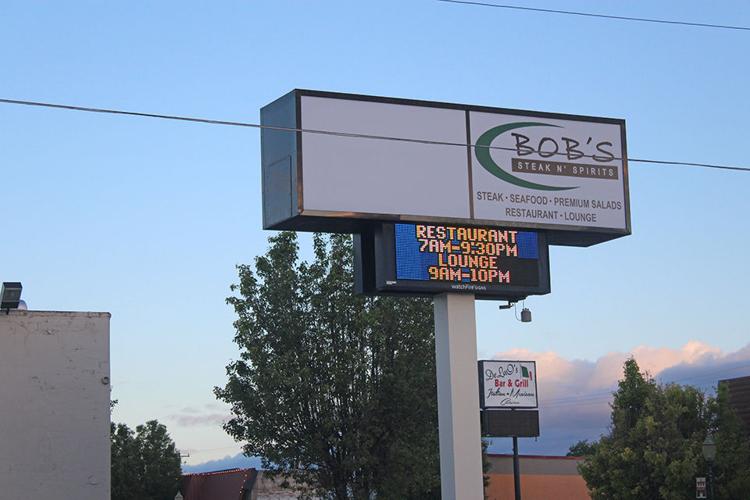 Ashley HomeStore in Westpark Plaza opened its doors after an eight-week hiatus from selling furniture. In a phone interview on Friday afternoon, owner Richard Fitzsimonds said how happy he is to be open again and described a steady flow of people since opening on Friday morning.
"People are flocking in," said Fitzsimonds.
He added that since the store is 25,000 square feet, it's much easier for customers to maintain social distancing.
Fitzsimonds said that part of the store's reopening protocols include that sales staff wear masks and hand sanitizer dispensers are set up throughout the store. Posters detailing safety and social distancing measures are also placed throughout the store for customers to review.
"People are spending more time at home right now, they want a nice place to sit," Fitzsimonds said.
Clothing stores remain closed
Aside from stores that carry clothing as well as other supplies that have been open throughout the pandemic, the majority of clothing retailers still remain closed in Ontario. this includes Rue 21, Maurice's, Famous Footwear and Marshall's.
The Argus was able to catch up with TJX, which owns Marshall's to see when they might be opening, but Andrew Mastrangelo, assistant vice president at Global Communications, encouraged patrons to continue checking online on the Marshalls' store locator application, which they expect to be updated daily.
"As the COVID-19 pandemic has evolved, our Company has continued to prioritize the health and well-being of our Associates, customers, and the communities we serve," reads a statement from TJX Chief Executive Officer and President Ernie Herrman. "As part of our response to the health crisis, we closed our stores in nine countries and online shopping sites, as well as our distribution centers and offices around the world several weeks ago. As various states and countries re-open businesses and we re-open our own stores and e-commerce websites, health and safety will remain a very important consideration."
The company has been highly focused on implementing changes to provide a healthier store environment once they do reopen. This includes new health protocols for associates including social distancing and the use of face masks while working, according to Herrman. Additionally, stores have been equipped with protective shields at cash registers, social distancing markers in queue lines, new processes for merchandise returns, and new cleaning regimens.
Customers will be expected to wear a face covering while shopping.
"No matter where people live in the world, we want our Associates and customers to feel confident when they come back to work or shop in our stores," according to the CEO. "I very much look forward to welcoming back our Associates and customers across the globe. As always, we remain honored to be part of your lives and wish you good health, now and in the future."