When asked whether he ever thought he would go from being part of a walkout over protesting carbon emissions during his final session at the Oregon Capitol to hiding for safety due to a violent protest over the outcome of a presidential election during his first session at the U.S. Capitol, newly appointed U.S. Rep. Cliff Bentz, of Ontario, said, "No. No, I did not."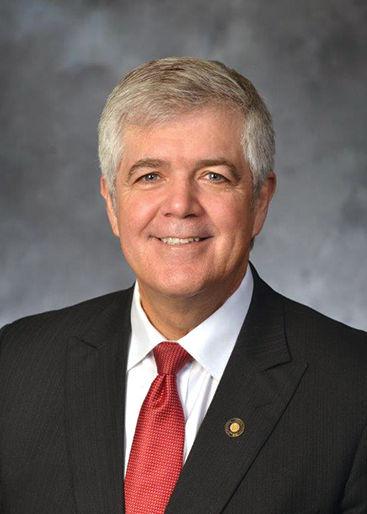 But that's just what he found himself doing on Wednesday, days after being sworn in for Oregon's Second Congressional District representative, as the U.S. Capitol was taking siege by pro-Trump protestors who stormed their way in to attempt to disrupt the outcome of certifying the Electoral College votes for the 2020 presidential election.
Bentz, R-Ontario, had to go into hiding with his colleagues, during which time the newspaper was able to contact him by cellphone.
While Bentz said that he anticipated protests, he said he didn't foresee anything like what happened on Wednesday.
"I was anticipating protests, but I didn't think they'd be breaking doors, windows and crawling into the building," Bentz said during a phone interview just before 1 p.m. local time. "But that's what they've been doing. It's pretty sad."
During the interview, Bentz said a woman was shot in the chest. It was later found out that woman was among the protestors.
Bentz said he expected that the majority party would "do everything they can to move the process along as rapidly as possible, because it is so important."
And they did, as soon as the chaos was under control, after President Donald Trump, who had first urged protestors to march on the Capitol, then pleaded with them to go home.
While safely tucked away, he said he and his team were "anxious to get back to discussing issues that are so important to all of us," which included "sorting through the Constitutional issues" to find the right outcome.
Bentz said it was very challenging to try to work on something at the Constitutional level, then "the next minute, rushing to hide so you don't get hurt."
"I think we have a real job to do and we are doing it as best we can in a way that keeps the faith with an awful lot of people who have lost faith with their government," Bentz said.
Challenging the count
When Congress did get back to business, Bentz, as he and incoming lawmakers had set out to do in December, challenged the Electoral College count. There were a total of 139 representatives and eight senators who voted to sustain one or both objections.
In a statement issued early Thursday, Bentz said that he has "heard many speak of distrust in the elections that were facilitated by several states." This prompted a plea to Speaker Nancy Pelosi in December for a "prompt and thorough congressional investigation into voting irregularities." However, that request has not been met.
While he could ultimately not support objections to the certification of Electors in any other state, including Arizona, Bentz did object to the certification of the Pennsylvania votes.
"In doing so, my goal was to protect the integrity of our elections and to prompt all states to uphold election laws as determined by their state legislatures – all in accordance with our Constitution," he said.
While accepting that Biden will be the next president, and committing to a peaceful transfer of power, Bentz said he will "continue to empathize with those whose frustrations with the electoral system remain unresolved."
How Democratic lawmakers responded
Aside from Bentz, Oregon's U.S. lawmakers are Democrats, including Sens. Ron Wyden and Jeff Merkley, and the other four House members, Suzanne Bonamici, D-Beaverton, Earl Blumenauer, D-Portland, Peter DeFazio, D-Springfield, and Kurt Schrader, D-Salem.
Those lawmakers all supported the certification of the votes.
Merkley said he and his Senate colleagues were on about the sixth speech of debates over accepting or rejecting votes in Arizona when "we heard noises in the hallway, and someone ran in and called for the chamber to close."
They stayed there until they were escorted to safety.
Merkley said he believes the situation developed as a result of "the failure to have a strong bipartisan pushback to lies and conspiracy theories from the president about the election.
"Much of America sees Trump's media story, that is completely apart from reality," he said. "As a result, people believe those lies and false stories, and this is the result at this moment."
Wyden in a statement issued Wednesday called the storming of the Capitol "a direct assault on democracy," that was due to four years of Trump "fanning the flames of fanaticism."
Local Dems: Bentz should avoid 'extreme politics'
In a request for comment from Malheur County Democrats, Chairman of the Central Committee Sammy Castonguay said the event was tragic; however, he added that the committee is focused on local and statewide politics mainly. To that note, he emphasized that Bentz should reconsider any future "engagement in extreme politics."
"The events in the nation's Capitol, while concerning and we condemn, are not a primary concern beyond our own feelings as Americans," he said.
"Locally, it is our place to let newly sworn-in Representative Bentz know that his endorsement of the bid to undermine the results, which was at the core of the events, was a mistake and not a representation of his constituents," Castonguay said. "We are very happy that Mr. Bentz condoned the activities and certified the election, but should significantly consider his engagement in such extreme politics in the future. We have a great deal of respect for him, his political advocacy for this County, and we have hope for his newly elected position to be one of the unifying voices from our new 117th Congress."