ONTARIO — After a recent major cleanup along river frontage near the city's water treatment plant, city officials had a eureka moment. Seeing the area cleared out of overgrowth and homeless camps allowed them to fully realize its potential to become a greenbelt or river trail that would offer recreational opportunities to residents and visitors.
It took more than 40 workers from multiple agencies a period of four days to bring this vision to the foreground. Once they did, it was clear to see the land along the Snake River "could be a real nexus for the community and a real positive thing," said Cliff Leeper, public works director.
What prompted the cleanup?
Concerns over water contamination and shoreline degradation from trash and human feces, theft of city property, and safety of workers who had to frequent the area forced the city to do the cleanup. The work was done on the portion of land along the Snake River that stretches from the boundary fence on the north side of the plant to just north of the bridge near Walmart.
The cleanup effort began on Oct. 14 and included workers from JACOBS, the City of Ontario's Public Works department, Oregon Department of Transportation and a contractor the state agency hired to deal with remediation and cleanup of the homeless sites.
The area had become home to about 35 to 50 people who were criminally trespassing there by camping along the river.
It had gotten to the point that public works employees were uncomfortable going down to the area alone, Leeper said, so Ontario police officers were present while crews worked.
9 homeless camps discovered
"The area had become a real haven for homeless camps," Leeper said, and they needed to get rid of the camps in order to secure the area.
The focus of the remediation team, Leeper said, was picking up and cataloging all the debris that was found. The team was also able to handle hazardous waste, such as sharps or needles, and they found enough to fill up one and a-half approved containers, he said.
Trash and human feces were found throughout the property — including near the river. There were even makeshift toilets, one, which was built inside a shanty, had PVC piped from the toilet directly down to the river.
Crews hauled off three 40-yard roll0ff dumpsters full of trash and debris, which included all of the wood, trees and trimming. Everything else that could be was chipped in two large chippers and left in piles to be burned later this fall or winter by the Ontario Fire Department.
Anything that looked like personal property was cataloged and is in storage at a city facility for 30 days.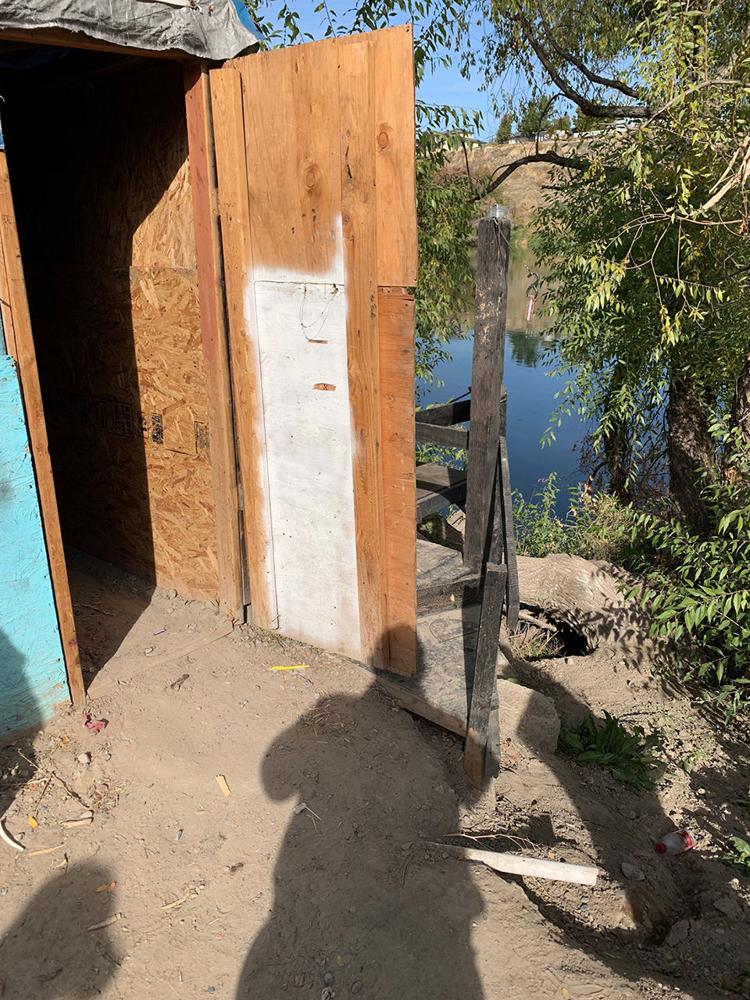 In addition to clearing out hazards, crews recovered stolen property.
According to Romero, ODOT and Jacobs crews recovered "in excess of at least 50 shopping carts." Romero said these carts are not cheap, averaging around $450 to $600 apiece, and that taking them from businesses is theft. He emphasized that when these carts are stolen, the cost is passed on to consumers and prices on goods go up as a result.
Even if the carts could be recovered they could not likely be reused, as many had been deconstructed or used in their whole state as makeshift grills.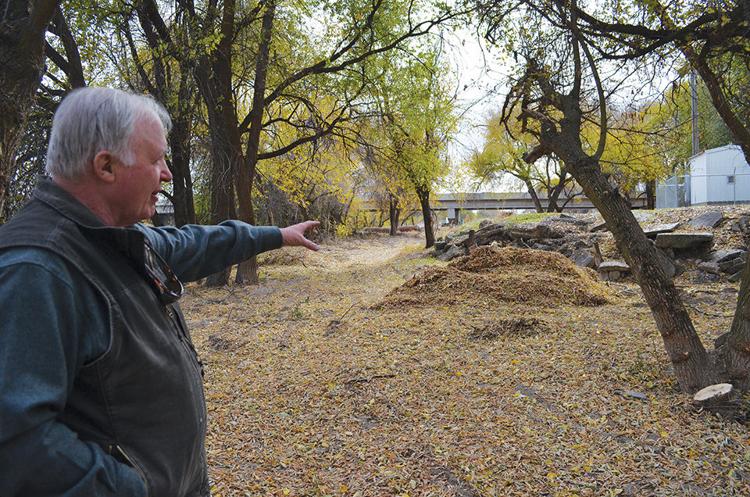 There were also a "mish-mash" of bike parts that likely came from stolen bikes that were deconstructed and pieced together with other bikes so as to be unrecognizable, according to the chief.
Rather than just kicking people off the property for the cleanup, city officials wanted to give them a chance to go on their own.
Prior to the cleanup, Ontario Police Chief Steven Romero said along with his department, that City Councilor Freddy Rodriguez, City Manager Adam Brown, and some community members did active outreach at the river.
This included telling them what was going to be done, posting signs so others would know and offering assistance in finding resources for those who would accept it.
Signs were posted prior to the cleanup and many of those people had moved on by the time work began, with only about six or seven remaining. None of them received criminal trespass citations as they were all in the process of relocating camps, and one man was arrested after he had been uncooperative with crews and it was discovered he had warrants.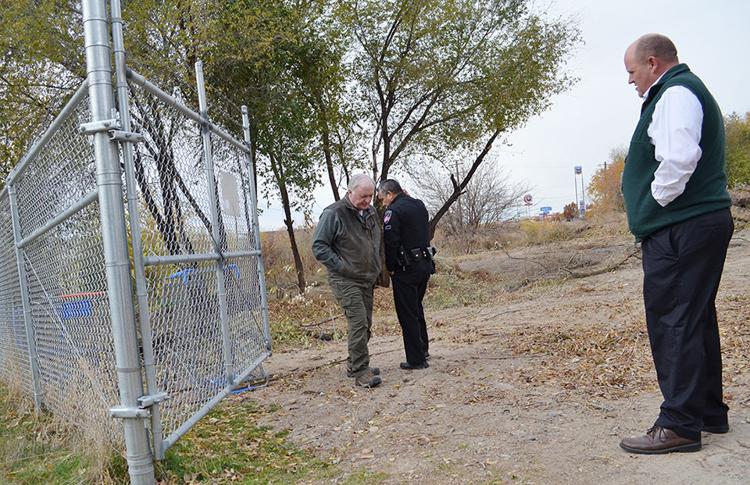 Homelessness is "a huge problem," Leeper said, noting that it was not unique to Ontario. While he doesn't have the answers, he hopes that this might spur more conversations about facilities for individuals experiencing homelessness.
"Some obviously have dependency issues to alcohol, drugs or other things, some are homeless by design, by choice, and some are mentally ill and have those issues or a combination of these things," Leeper said. "I wish I knew what to do about it, but I can tell you the way it was — the way they were living down there is not acceptable for many reasons."
'The change in this property is remarkable'
During a tour of the property on Oct. 28, city officials noted that personal items had creeped back into the area and people already were camping down there. This didn't seem to deter them from a long-term goal.
While the projects aren't tied together, the cleanup still has city officials looking forward to a river trail.
"The change in this property is remarkable," Leeper said, adding that once it is all cleaned up, a project which will take some time, he could foresee a "quality place along the river to bring families."
Romero took that one step further envisioning mothers with strollers and dads teaching their sons how to fish.
"This is pristine land," he said.
"I'm a true proponent for the city to get into the 21st century and start using land like this for community purposes," Romero said, noting that when he first moved here, people from Ontario would always try to send him outside the area when offering suggestions for recreations.
"This side [of the river] hasn't been overfished, we should be embracing that."
While a river trail has been in the master plan since 2005, there isn't enough money locally to fund such a project, according to Brown. The city would need a big helping hand to pull off a project which Brown estimates to be about $3 million to $4 million.
He says state grants from Oregon Department of Parks and Recreation would only come in at about $1 million, noting that a project this size would take about $3 million to $4 million to pull of such a project. Something that much would need legislative help, he said, adding that Sen. Cliff Bentz, R-Ontario, championed the idea for such a project.
Bentz during a phone call on Thursday said that with his current bid for Congress, he won't likely be trying to help find funds for any new projects during the upcoming short session, as he's not sure what his continued presence in the Legislature will look like.
However, he is "totally supportive of the project," and hopes that the focus will continue with local officials and with Rep. Lynn Findley, who has put in for the senator's seat.
Bentz said he suggested picking up momentum on the river trail to Ontario Mayor Riley Hill before he ran, and "bless his heart, he's began to run with it."
What is unique about the proposed trail which would run alongside the Snake River from the water treatment plant area to the Ontario State Park is there are not a lot of property owners. In fact, aside from the city, there are only three others and Brown says the city is making good ground on getting easement agreements in place with Walmart, Kraft Heinz and ODOT to get public access to those areas paralleling lands owned by those entities.
Bentz said a river trail is a wonderful idea that would work on both sides of the river, "but let's get it done here first."
"I have been astounded over years why something like that hasn't been done yet," the senator said. "The river is a huge asset and we don't use it. There should be a trail that frankly goes all the way to Weiser."
Once there is access, "bicylists and others will begin to use it, and I guarantee you they will, one little step at a time," Bentz said. "I just hope Ontario goes through with it."
Griffin Hewitt contributed to this article.